After nearly three years since his last release – years spent locked away painstakingly developing the exact sound he is looking for – the incredible Phonat returns with a new E.P. "Identity Theft".
Phonat has crafted an exceptionally intimate and personal journey, exploring themes of the soul within the machine, the passage of time and the passions and challenges of the creator, brought to you by MofoHifi in association with OWSLA Records.
"Return To The Valley Of the Super Shooters" sees The Young Punx and friends in nostalgic mood, lovingly harking back to the golden era of UK Jungle. With Memphis-rapper Count Bass D spitting in clear homage to Zinc's legendary "Super Sharp Shooter" (itself a lift from LL Cool J), and classic junglist beats to boot, the Young Punx Delorean is targeted firmly at 1995. But with a heavy lacing of post-dubstep basslines from Phonat dominating the low end, and a quirky collection of Theremins and Circuit-bent Stylophones tweaking over the top this is very much a 21st Century track, with a wry nod to music that inspired its creators back in the day.
Free 128k download on soundcloud with full quality available to buy from Beatport now.
26 track chronological label retrospective available now (for under £6 / $8 !)
Includes tracks and mixes by Phonat, Steve Angello, Norman Cook, Avicii, Gramophonedzie, High Rankin, Riva Starr, Shinichi Osawa, DCUP, The Young Punx, John B, Arveene & MiSK and more
On Friday 13th April MofoHifi Records' artists and friends will descend on 93 Feet East, one of London's live iconic music venues for one night only. Headlining the main room will be the allusive Italian wunderkind producer, Phonat, with support from Louis La Roche, The Young Punx, Bobby Tank, DiscoSocks, F*Games, 5eya and Red N Pink. Visit the facebook page for the event at http://www.facebook.com/events/256548881100823/
Following Skrillex winning a Grammy for Scary Monsters and Nice Sprites (congratulations Skrillex) we remembered that we never posted Phonat's awesome remix of the track, which takes it in a totally different, more introverted dubby direction. If you have only heard Skrillex's Grammy winning original, check out the Phonat version and you may have a few surprises! And watch out for Skrillex remixing some Phonat on MofoHifi Records later this year.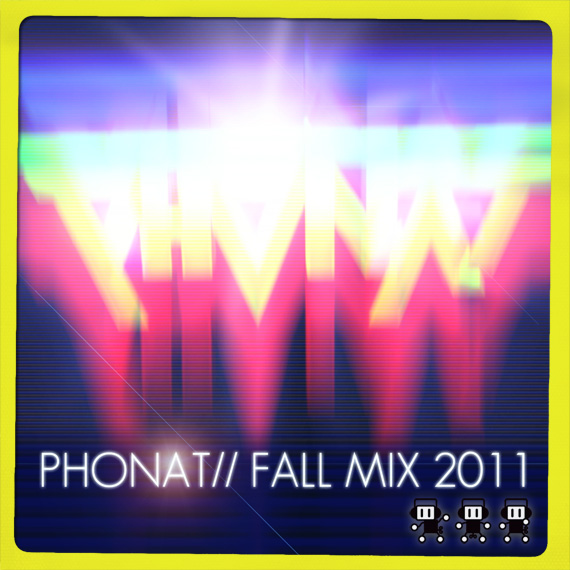 Phonat Mix Fall 2011 by MofoHifi Records
Blatant kitsch and hedonistic nu-disco escapism, The LL Ton J trio, to include Phonat, hide nothing in their pleasure of putting together this lustrous, warm re-edit that asks for nowt but a smile. A 4-minute carousel of addictive disco restyling, LL Ton J will successfully navigate you from A to B. Like its namesake, Roger More is rich with charm, a classy good timer and a hit with the fairer sex. Do it Roger.
Italian-born wunderkind and producer to watch Phonat follows up his critically acclaimed debut album with the Cockroaches EP, a 4 track slice of underground electronica. Eschewing the temptation to cash in on his album's tastemaker plaudits with a commercial banger, Phonat remains as original and adept as ever, choosing to paint an introspective and edgy audio picture of his Dalston junction bedsit and club culture environment, perfect for murky nights in and sweaty backroom bassbins.
Cockroaches, Spliff Dub, Intimate Confessions and The Microwave FX are the titles and perhaps they say it all. Dubstep, glitch and french house are the main influences – but created in a unique and totally original way, presenting his own take on the atmosphere of London's underbelly.
Watch out for guest vocal snippets on "Spliff Dub" provided by one of London's hottest grime MCs, Dizzee Rascal's protegee – 'Footsie' from the Newham Generals.
Phonat is now back in the studio working on new tracks, so expect more surprises from this constantly fresh young artist later in the year on MofoHifi Records.
Check out Phonat's Ghetto Burnin' being used to great effect as the music for the "Good Life" Trailer for Test Drive Unlimited 2 computer game. This combined with the track's use on a TV advert for '24′ has brought the track to the attention of a lot more people this month! [ buy the track on iTunes ]
At last Phonat Vinyl is available to buy!!
Side A
1) Set Me Free – Avicii Remix
2) Set Me Free – Extended Mix
Side B
1) Love Hits The Fan
2) It's For You (N.B – The vinyl is wrongly advertised as B2 being 'Ho Visto Quadro Verde)
This time the Italian wonderkid gives his own personal take on the French house sound with a groovy twisted number, characteristically chopping up, glitching and re-pitching many different singers performing the word "love" to create a melody which is simultaneously an abstract deconstruction of pop lyrics, and also a catchy hook in its own right.
On the remix front new French prodigy Bestrack gives the track a career defining makeover taking Phonat's original concept and extending it into an epic and entrancing journey through a variety of styles.
<em>'Love Hits The Fan'</em> is complemented by a visually stunning CGI video which has set the blogs alight in its first week on Youtube. Produced  by Rocco Pezzella and the "Savants Collective" – who develop all of Phonat's artwork and his MTV play-listed video for "Set Me Free" in 2009 – this beautiful promo re-enforces MofoHifi Records' long standing policy of eschewing traditional routes for video development, instead partnering their acts with independent visual artists who work hand in hand with the musicians to create new and exciting visuals.
(Veröffentlichung und verfügbar in Deutschland, Österreich und der Schweiz ab den 14.05.10. // Japan, Australia, NZ out June)
The Young Punx return for their second studio album, a startling and inventive exploration of the deliberate destruction of genre boundaries in electronic music. Probably the first album in history to have toyed with drum and bass, heavy metal, electropop and cuban timba within the first 5 minutes (!) "Mashpop and Punkstep" is a vibrant manifesto for the next generation of mashup music. Featuring the epic collaboration with Memphis hip hop Don 'Count Bass D' – "Ready For the Fight" (already heard as the theme music for EA Games "Fight Night 4″ and as official entry music for world middleweight champion Arthur Abraham), the J-pop electro disco of SugarCandySuperNova and the Ragga House of "Juice and Gin" the album spans Puccini Opera, Punk rock, hip hop, synth pop, Japanese rock and much more…
"[The Young Punx are...] jubilantly shredding genre boundaries, swooping like crack crazed Magpies to grab their favourite shiny bits with maniacal gusto" – Clash Magazine

(Availability note – though you can buy it on import now from Amazon etc, full release in the USA, Germanic countries, Japan and Australia will roll out over the late spring/early summer)
A triumphant collaboration, the track blends the group's London electronica with the vocal talents of Memphis-based, indie hip-hop don Count Bass D.
Despite radically different musical and cultural backgrounds both artists have developed a great respect for each other's work and come together to create a unique and moving track. Seamlessly combining the best of post Daft Punk, European dance production with big room hip-hop vibes, in a moving tale of resolve and determination in the face of great adversity. Read more
"It's been described as an Acid House Bohemian Rhapsody, it takes in 25 styles during it's course, I like it" – Rob da Bank on BBC Radio 1
"This guy F**ks with all the rules" – Norman Cook
"Learn to Recycle is six minutes of utterly unique music" – IDJ
"Phonat has frequently stunned us with his none-more-innovative productions over the last few years, coming across like a hyperactive Daft Punk on happy pills…… By the end, you're exhausted, perplexed, flabbergasted, and left with the feeling that all other music is boring, unimaginative, repetitive trash. Wow. 10/10″ – Data Transmission
Unique, innovative, rule breaking, genre-spanning….just a few of the plaudits that have been used to describe the works of Phonat, the seven foot mop-haired Italian who's been catching the ears and attention of the ever intangible 'tastemaking set' over the past few months.
Annie Mac, Annie Nightingale, Andy George, Rob da Bank and Pete Tong have all been championing the producer since last year, when singles 'Incredible Sound', 'Ghetto Burning' and 'Learn To Recycle' marked him as one to watch for 2009 and beyond. Now readying the release of his eponymous debut album, Phonat has created a panoply of chopped up riffs swirled around murky basslines, a world where guitar-driven dancefloor fillers meet bleep-filled fantasies for fun, friendship and possibly more.
Originally from Florence, Italy, Phonat (aka Michele Balduzzi) was first spotted by MofoHifi Records on MySpace and they were so impressed with the 21 year old that the loving label bosses persuaded him to leave his parents' idyllic country farm in Florence and move to a bed sit in Canning Town. Armed only with a five-year-old computer and an electric guitar Phonat dutifully relocated to London in late 2007 and the rest, as they say, is history.
Drawing on every vein of dance music, from hip hop to house, garage to breaks Phonat's expert use of a vocal hook is also evident, most noticeably on the Yolanda vocalled 'Ghetto Burning' and next single 'Set Me Free' – where classic 80s style rock vocals sit atop a stacatto-synthed stomper.
Phonat may have arrived on the scene late last year, but with DJ bookings and remix requests coming in from across the world and his album ready to hit the streets, 2009 is set to be an busy year for the big Italian.
'Phonat' by Phonat is released on MofoHifi Records on September 21st. 'Set Me Free EP', featuring remixes from Avicci, Louis La Roche and High Rankin was out August 24th.
Tracklisting
1. A Warm Welcome
2. Get Down My Dirty Street
3. Set Me Free
4. Ghetto Burnin'
5. Love Hits The Fan
6. Ho Visto Un Quadro Verde
7. It's For You
8. Learn To Recycle
9. The Big Deal
10. Zombie Army
11. Bad Boy
12. London
Available at all major sellers.
Our favourite review so far – Not for the faint hearted though!!
Massive new club anthem on MofoHifi Records, with groundbreaking remix from Phonat.
London based electro producer Sharooz was first introduced to the dance world by MofoHifi in 2006 with his debut release "Hell Yeah!" which received over twenty BBC Radio One plays and featured on numerous high profile compilations.
Three-years on and his star is still rising. Sharooz's productions can now boast a clutch of leading taste-maker fans including 2 Many DJs, Moby, Mylo, Erol Alkan, Boys Noize, and Kissy Sell Out; an appeal which hasn't gone unnoticed by club promoters, securing him DJ bookings in Serbia, Switzerland, Russia, Spain, Denmark, Sweden, USA and France. After topping many of the main dance download charts earlier this year with "Get Off", Sharooz is back with his third release on MofoHifi – "Adrenalize".
Adrenalize is a tough, big room crowd pleaser combining his trademark simple biting basslines and epic builds, with a triumphant piano break that has been raising the roof in Ibiza over the past few weeks.
Early support for the track comes from Fake Blood, Steve Aoki, Meat Katie, Grum, Dada Life, The Young Punx and many others and it looks set to be one of the underground dance records of the year.
On remix duties, MofoHifi artist Phonat, building up to the release of his forthcoming debut album 'Phonat', delivers a radical and innovative remix that creates a sound fusing the worlds of Dubstep and French house. Never one to deliver a predictable sound, the seven-foot Italian has been inspired by the increasing integration of the Dubstep scene into mainstream Ibiza clubs such as "Reclaim the Dancefloor" to create a Dubstep influenced groove that can be easily dropped by house DJs in their steps without changing tempo.
Italian producer Phonat has been catching the ears of a fair few tastemakers with his last few single and EP releases.  Add the likes of Annie Mac, Annie Nightingale, Andy George, Tiesto and Pete Tong to the list above and you can see why the lofty Italian has been marked out as one to watch this year.
Now, ahead of his eponymous debut album due out in September, Phonat releases 'Set Me Free' a staccato-synthed stomper of a track, where classic 80's rock vocals provide the support.  A standout from the forthcoming album, Phonat hasn't skimped on remixers with the first coming courtesy of Avicii, the latest 'made' man in the Swedish House Mafia.  Proving his pedigree Avicii chops vocals and swirls synths to create a hands in the air Balearic bomb, early copies of which are already becoming staples in the record boxes of the more discerning DJ.
Bleeps and basslines are the order of the day on High Rankin's re-rub as the dubstep dandy leads listeners to the dancefloor, albeit down a slightly murkier back route, before Louis La Roche's Reconstruction adds a tougher, twisted edge to complete the package
With previous singles 'Incredible Sound', 'Ghetto Burning' and 'Learn To Recycle' Phonat (aka Michele Balduzzi) has showcased his ability to draw on every vein of dance music, from hip hop to house, garage to breaks and left fans eager to hear more.  Now with DJ bookings and remix requests coming in from across the world and his album ready to hit the streets, 2009 is set to be a busy year for the big Italian.  Not bad for a man who arrived in London from Florence little over a year ago with just a guitar and a five-year-old computer.

Phonat is a lanky Italian DJ who's quit the rennaisance splendour of Firenze and decamped to grimy old London Town. The smog must suit his constitution as he's come up with a belter of an album which cuts out the middle man and sees him both create and remix his own tunes. The end result may be a digital album but it is one which, nevertheless, is oozing with his schizophrenic personality. He's not here to make you think though – this album is as commercial as they come, recalling the nu-rave chart hits of the early 90′s.
Check out Set Me Free which could set light to any dancefloor; a potential chart topper which could have been released any time between 1991 and 2009. It takes the Hagar era Van Halen model to its ultimate conclusion and combines soft rock vocals and epic synths with an infectious dance groove. There's no Eddie Van Halen solos but Phonat isn't averse to dropping in some of his own nifty guitar lines here and there throughout the album– it just takes a while to tune your ear into them as they are so well disguised in the mix. Learn To Recycle is similarly epic and, whilst it may have an environmental point to make it also has potential to generate some dancefloor mayhem.
Read more
Phonat gives M8 the low down on his album, audio for the hard of hearing and dealing with looking like Brian May…..
"My favourite song so far of 2009… it's really amazing. lots of wicked rifts that go real mental"- Jaymo and Andy George on Radio 1 covering for Annie Mac.
"this guy F**ks with all the rules" – Norman Cook
The eagerly awaited new EP from the Italian prodigy paves the way for his debut album release this spring.
The "Set Me Free EP" is a follow up to the innovative and critically acclaimed "Learn to Recycle" which was celebrated as one of the most adventurous pieces of electronic music to be released in 2008 and was described as the 'Bohemian Rhapsody for the acid house generation'.
Support has come thick and fast for Phonat from top DJ's such as Annie Mac, Annie Nightingale, Andy George, Rob Da Bank, Herve, Kissy and Pete Tong.
"Set Me Free"
"Set Me Free" is an uplifting and inspirational club track which draws together three separate themes from current house music – disco revivalism, rave revivalism and wonky fidget. It combines them in a fresh sounding summer anthem that unifies many aspects of underground dance within one, highly accessible track and shows that dance music, so often divided aggressively by sub genre, can unite defined by its similarities more than its differences.
The EP also contains a re-edit of "Set Me Free" by East London Nu Disco outfit, Tasmanian Disco Stampede, re-focussing the track on its more funky elements, for more disco based dancefloors.
"Get Down My Dirty Street"
"Get Down My Dirty Street" is a unique and entertaining track, created from tiny fragmented micro-samples of different songs; rock, country, pop, soul, rap and metal, which start off playing as a stark disjointed chaos and slowly coalesce into a cohesive whole and then wonderfully form an upbeat party breaks bomb. Guaranteed to bring a smile to your face!
"Ho Visto Un Quadro Verde" – ("I've Seen a Green Picture")
Finally, "Ho Visto Un Quadro Verde" shows off Phonat's more minimal side – a trippy yet bouncey stripped back club tool which explores the sparse soundscapes, yet doing so with a sense of charm and humour so rarely seen in that field!
The track name translates from Phonat's native Italian as "I've Seen a Green Picture" and is derived from a drunken bet with a friend made when he was living in his native Florence, in which they invented a variety of surreal and ridiculous pretend song names, and bet that one day 'when they were successful' they would be able to release an album that actually included one of the names in the tracklisting!
Super Mal crashed on to the scene in 2006 with their first production 'Bigger than big'. It was snapped up by a major label and they found themselves sitting on a top 20 hit! All good, but rather than aim for the charts again James Crompton and Lyndon Coyne took their sound back to the dancefloor, focusing on building their label, Bandito Records. Fast forward to 2008 and they have a catalogue of quality house music, a worldwide fanbase and a reputation for delivering retro arcade videos like no other!
Phonat a.k.a Michele Balduzzi has been seriously turning heads since his move from Florence, Italy to London. His innovative approach to production, creating a uniquely catchy mix of house and electro has seen him described in the press as 'a hyperactive Daft Punk on happy pills…'
Super Mal and Phonat first linked up when Phonat remixed the Super Mal single 'Light Years'. The remix was amazing and garnered support from the likes of Pete Tong and Annie Mac on Radio 1. Suitably impressed, Super Mal picked up the phone and 'Pixelated' was soon to follow…
'Pixelated' delivers a warm, chopped and filtered loop that keeps on building until the cut 'n' paste vocal and giant bassline drop in, to create a massive uplifting groove guaranteed to rock any dancefloor. The breakdown strips back into a funky electro loop full of bleeps and squelches before that huge filtered loop is back to test the speakers to their limits
Love and respect continues to grow in every corner of the dance world for the humble Italian giant since his arrival in the UK at the end of 2007. Phonat has now received plays from Tong, Jules, Rob Da Bank, Annie Mac and Annie Nightingale on Radio 1 along with strong support from the worlds DJ elite as he continues to redefine electronic music.
Learn to Recycle quite simply breaks all the rules and is a taster of what we might expect from the forthcoming Phonat album, due for release early 2009. The idea of the track is to take the same sample, drum kit and bass and, in six minutes, journey through everything from house, hip hop, drum and bass, electro, down tempo and everything else whilst passing. We challenge you to find a more original piece of electronica this year! Despite its unconventional tempo structure, the track is proving to be absolutely massive on more adventurous dancefloors.
Meanwhile the '4toThe Floor mix', also mixed by Phonat at a more conventional speed, has steadily been climbing the electro house charts in Beatport and in the Coolcuts chart. Full of ravey beeps and driving guitars.
The Incredible Sound EP is the debut release for Phonat on MofoHifi Records. The label was instantly hooked on Phonat's fresh sound, a unique genre mashing combination of electro, house and breaks. The label first discovered the humble Italian giant when commissioning remixes for The Young Punx 'Rockall', Phonat's mix proved very popular with the worlds dance elite and received several Radio 1 plays and was also featured on numerous comps, as was his subsequent remix of 'Fire'. He has since been remixing for DJ Dan and Traffik on Global Underground and recently moved to London to work more closely with UK producers and labels.
'The incredible Sound EP' consists of the original and dub of 'Incredible Sound' and 'Sonic', both written and produced by Phonat.
Watch this space as we feel that Phonat is something very very special.